This Summer wasn't what we were expecting just like most others with having to deal with and experience what COVID-19 would do for all of us. But we still kept our plan on having my 30th/Open House party in June. I had invited many friends/family from out of state and obviously they weren't able to make it. As time got closer we quickly wrapped up our final structures in order to make our big debut. Finding hand sanitizer during a pandemic was quite challenging, but a local brewery sold it by the gallons. I set up stations all around and also provided disposable gloves for everyone who needed to dish up their own food. This years goal was to finish our log style pavilion and our indoor/outdoor bathrooms which has running water to wash hands. We had roughly about 90 people, but it felt like 30, I love that we've created such a wonderful open space that is surrounded by hay fields, mountains and woods.
The Pavilion
We purchased a saw mill over the winter so my husband could start building the log style pavilion. We used the cottonwood trees we had cleared from the land and the poles came from Spruce Beatle kill trees. The size of the pavilion is 54×24 to the drip line with a gravel pad and a copper penny roof. The pavilion has full power.
The Bathrooms
We did a little bit different of a design on the bathrooms then most people but hey its Alaska. We have 3 enclosed bathrooms- 2 are 6×6 and one has a changing table, the third bathroom is a little bigger for those bigger dresses, its 6×8. These bathrooms are rustic and chic, copper sink vibes, wood butcher block counter tops and mirrors. When you look at the back of our bathrooms you'll see a privacy fence that hides two outdoor covered urinals and a mop sink. On the front of the bathrooms is a small bar to place your things for while you wait or plug-ins for phones.
Woodland trail
Last year we cleared land, hydro-seeded grass and put in a woodland trail from our grass parking lot. We had a hard time with the hydro-seed and since we tore everything up to get power in, this year we planted Alaska grass seed mix and it made a huge difference. On the woodland trail this year, I started transplanting about 50 or more perennials from around our property. My goal is to be able to have all sorts of flowers in bloom through out the summer months.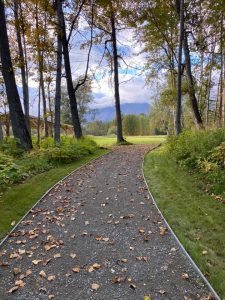 Most events postponed to next year, but we did get a couple last minute events for the fall, which was really nice to see. We've been working on how to make this dream happen and put a lot of love into making it come true, its so nice to provide such a wonderful, beautiful place for people.