Welcome to Briarwood Farm. I've had a dream for awhile on creating a new outdoor venue in Alaska. To tell you a little bit about myself, my name is River, I was raised in Alaska and grew up appreciating all that our state has to offer. My family loves exploring our beautiful mountains, hunting, fishing, 4-wheeling and also many trips into the cabin. I met Forrest, the love of my life when I was 19, he started it all with a clever pick up line, "Every Forrest needs a River." I was hooked from then on. We were married by the age of 23, and both created our dream wedding with the help of family and friends. We planned and made everything for our special day on my uncles property and it couldn't have turned out more perfect. My family and friends helped with making food and setting up everything the day before. We made all our own decor all the way down to the groomsmen's vest's. It was that day, which made me realize how much I wanted to create a wonderful outdoor venue to share with others.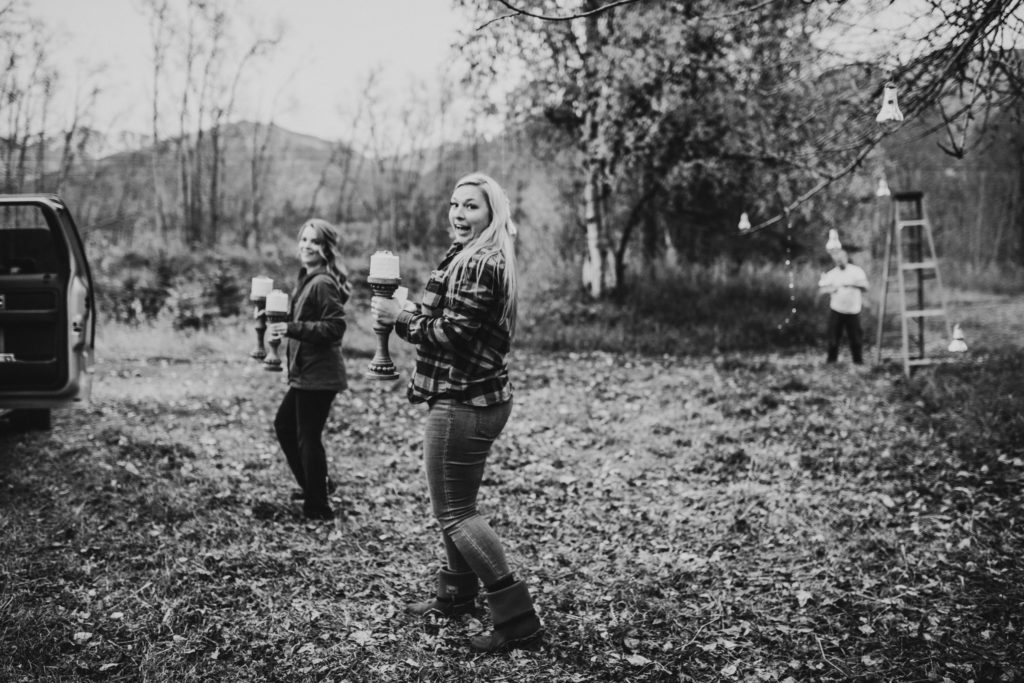 We have since then made our way to a beautiful spot in Sutton, Alaska just outside of Palmer sitting in-between The Talkeetna & Chugach Mountain ranges. Briarwood farm sits up on a bluff above the Matanuska River. My vision is to fix up the entire grounds, since most everything you see was built in the 60s-70s. There is a man-made waterfall with peaceful surroundings, mostly fiddlehead ferns sit through out that area as water trickles down to the little pond below. This area will make a great picture spot. Since this last fall I started transferring my perennials from our previous home, lots of columbines, lilies, irises and many more. The property also has two big lilac trees that were planted in the 60's along with a weeping birch and some apple trees.
Along with beautiful Alaskan views of mountains we are surrounded by rolling hay fields and also are very close to Granite creek. We have started work in our wooded area where most of the venue will be located. You'll take a path from our parking area through the woods towards the back fields. The ceremony area has a gorgeous backdrop of mountains and fields, next to that will be the reception area. For now I have a 20×40 big white tent to put up for receptions, eventually my husband plans to build a structure such as a beautiful log pavilion along with some cabins for people to get ready in. We have many plans for this area, little details in the pathway that takes you to the main area, a covered dance floor as well as bathrooms. It will all come with time, but we are starting to make progress in this dream.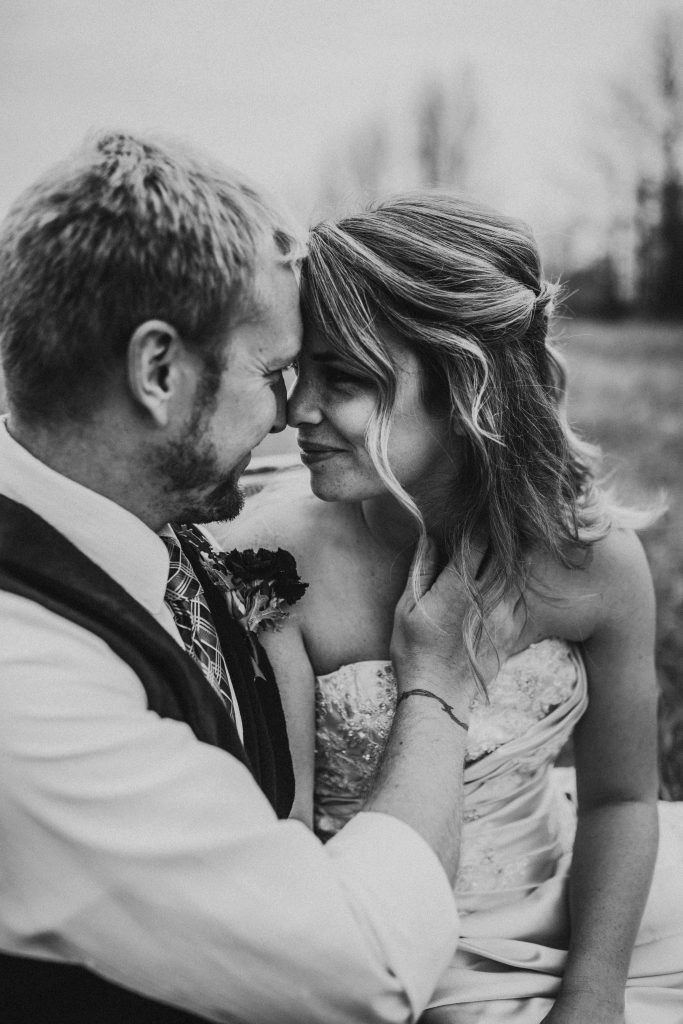 In October, we had a group of wonderful ladies come up and help stage my vision for a wedding photoshoot. It was a little stressful since we had just moved to the property and were still settling in. Our bride and groom that we had lined up for pictures didn't work out, the groom was stuck working out of town which only left us with a bride. Donna Marie Photography was determined to make this day wonderful even in all the chaos, she asked if my husband and I would be interested in having our wedding photos re-taken in our old wedding attire. I went on the hunt to find my wedding dress along with my husbands suit in our travel conex and started steaming wrinkled clothes haha. A Touch of Saige Events along with Wild Poppy Rentals, Petals and Paper Flowers and my husband and I started stringing up lights, setting up cake areas, adding furniture and just making everything come to together for our first Brairwood Farm shoot. My husband and I then went and got ready for our photos to be taken, I could not believe how well everything ended up turning out. Our bride model Alyssa Culver, posed effortlessly in our wooded section. When everything was said and done we then got to enjoy some delicious cake made by Saige. The pictures in the gallery are from that wonderful day.
My plan is to update our info in The Farm Journal when we update the property and make more DIY items to use in our venue. If you are interested in booking this upcoming summer season 2019, we will be open in July-September, possibly even early October depending on how our weather is. So far we've had some great Falls. If you have any questions please contact akbriarwoodfarm@gmail.com or check out our contact information on the webpage, thank you!