Season 2021 Wrap!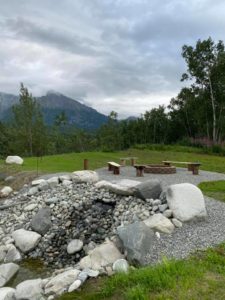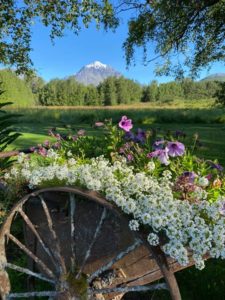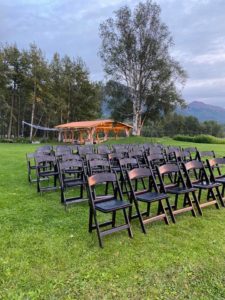 This was our first real season since the pandemic has hit. It was also a summer of projects happening around the venue. We finished our remodel of the manmade waterfall and firepit area. When we had first moved to this property in 2018, there was a small firepit surrounded by cottonwood trees and the little waterfall sat below it. Our inspiration for this project was the neighboring creek to the property, Granite creek. The fire pit is an area we created for our event campers for the weekends. We cleared out the trees, opening the view of the Chugach Mountain range. The waterfall has three drop down ponds and surrounded by perennials and mountain views. Also near this area are some beautiful trees, whispering birches, apple trees and lilacs.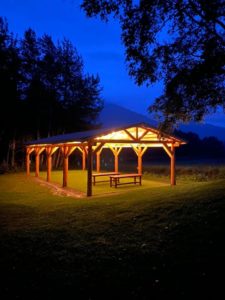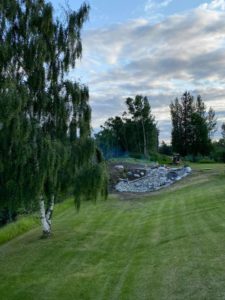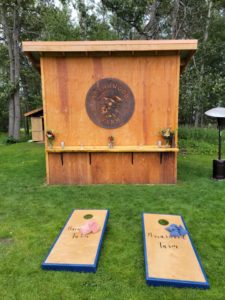 Other addons for the season was lighting to the bathrooms outside and the pavilion lights. We also built a beautiful storage shed to store our new tables and chairs. We now have seating for 150 guest and 15 6ft round wood tables. My husband and I also built 2 8ft farm style tables and a couple cornhole boards. With those yard games also came Giant Jenga and Ladder ball. Another small but big project was staining the log pavilion, which took a lot of work and a lot of stain. Lastly one of our favorite investments in the property was our new auto mower, Lawn Burgundy. I have about 5ish acres that needs to be mowed every 7-10days, this auto mower takes a sizable chunk out of that. I did not have to mow up the venue once this summer. It is quiet and mows daily, even in the rain.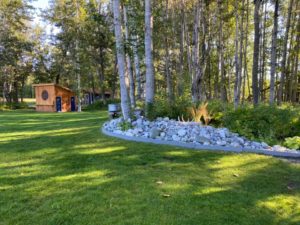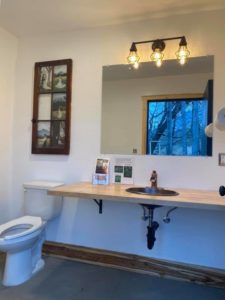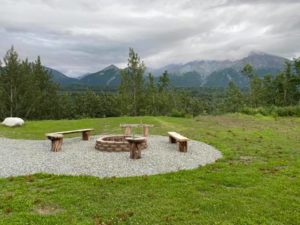 As for future we are remodeling a 1970's camper into The Love Shack, which will be a little place for brides to get ready in. Eventually we will be building some cabins to add into the venue but one step at a time. For the harsh weather days, we also are getting some heavy duty, weighted canvas curtains to install on the side of the pavilion that can be affected by rain and or wind. With the tower propane heaters inside it will help a lot. And lastly after our season ended, we then cleared out a huge patch of cottonwood trees for the cabin area when that time comes. We also got rid of potential trees that could harm the venue if they fell. Which after how this winter has been treating us, I am thankful we did that. Tours will start in the spring. Normally I have been able to do winter tours, but this year with the windstorms and freezing rain, its just not safe.